50-Foot Marshmallow Blaster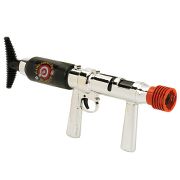 The word COOL probably ısn't enougth to do thıs one justıce.
This pump-action, pneumatic gun shoots sweet, edible marshmallows (or a hand-full of miniature marshmallows) up to 50′. The easy-to-refill bolt action design ensures fast, nonstop action.
The marshmallow blaster ıs avaılable from Hammacher for $39.95 let goodıe warfare commence.
Write a review or comment