So what'd you get?! What'd you give?
Come on, we're all gadget, and thereby gift nuts.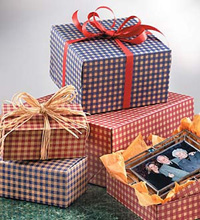 So bring it on, what'd you go out and get for your loved ones?
Also, what'd you get?! Come on, you're dying to share,, do you get to Wii? Is there a new PS3 in the family?
Do you have new socks that for some reason smell different from your old ones,, maybe due to the fact that your feet have not yet infected them?
Post your stuff in the comments, give a little reason why.
Any philanthropy? Put it in there, goodness is appreciated this time of year chaps!
My list to follow as well.
For the Hannukah route this is how it went for the spouse:
Timbuktu Macbook Pro cover 15″, Earrings, Necklace, Slippers, ye old mobile flask, a shot glass ice cube maker, and a linksys travel router. Oh, and I got some shoes and cash for clothes (they're more in the need category!)
Can't wait to see how it was for you!
Write a review or comment